Eclipse Mobile Banking is right at your fingertips. You can now access your accounts through your phone. That's refreshingly handy!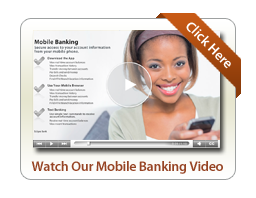 To enroll in Mobile Banking simply log onto Internet Banking
Go to Services> Mobiliti
Select Services
Choose from a variety of mobile banking services. You can get basic account balance and transaction information, or receive full mobile banking capabilities that allow you to view account details, pay bills, transfer money, and more.


Downloadable Apps
Get a customized application for your device that provides an intuitive and rich user experience consisting of easy-to-navigate screens and menus. Receive all the benefits of mobile browser banking, enhanced by your device's unique features.

For your phone
On your device, open Google Play or the App Store and search for TouchBanking, or click either of the download images below.
On your mobile? Click the appropriate icon to go directly to the store:

Important! After you download the TouchBanking application, you will need to enter this App Code to activate it: eclipsego
Other Services
Why Use Mobile Browser Banking?
Get full and extended mobile banking capabilities on your web-enabled device. Receive an optimal banking experience with a look and feel that is similar to PC-based online banking, in a site designed to fit neatly into your device 's screen.
Why Use Text Banking?
Send text commands (such as BAL) to your bank from your SMS-enabled phone to inquire about basic account balance and transaction history information. Receive text message responses directly to your phone.

Popmoney

Popmoney is an innovative personal payment service that eliminates the hassles of checks and cash. Now, sending and receiving money is as easy as emailing and texting. Popmoney is easy and convenient for you and the people you send money to. They can simply receive the money into their bank account online.

The following are just a few of the convenient ways that you can use Popmoney:

Send money to your child at college
Send a gift to family and friends
Reimburse friends for that fun outing
Pay your babysitter or your lawn care service
Pay rent to your landlord or roommates


As always, please contact us at 502-671-4800 or eclipseonline@eclipsebank.com with any questions or comments.
Online Banking Login