View all posts
Exclusive: Louisville bank entering new market, shifting HQ operations to East End
11/11/2022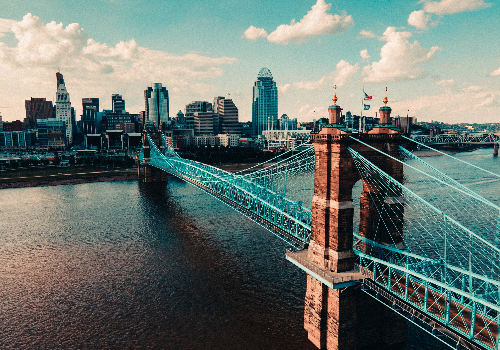 By Stephen P. Schmidt – Reporter, Louisville Business First
Nov 11, 2022
Updated Nov 11, 2022 5:25am EST
Listen to this article4 min
Today Tennessee, tomorrow Cincinnati.
That's what Eclipse Bank President and CEO Andrew Pyles told me recently about his bank's expansion plans.
We first reported in February on the bank's plans to expand into Tennessee after hiring four commercial bankers to open up loan production offices in the markets of the Tri-Cities — composed of Johnson City, Bristol and Kingsport in the northeast part of the state — and Nashville markets.
Now, the bank has its eyes set on a similar pathway into Cincinnati with the recent hire of two new team members: Brent Dapper, who will serve as senior vice president and commercial bank team lead for Cincinnati, and Jeremy Fuller, who will serve as the vice president and small business association (SBA) relationship manager.
Another additional commercial banker will be named in the market in the near future.
"Cincinnati has been on our radar as a potential expansion market for about a year, due to the favorable market dynamics and proximity to Louisville," Pyles told me. "However, our decision to enter a new market is ultimately based on finding the right talent. When we had the opportunity to bring over Brent we agreed the timing was right."
Dapper, who has close to 30 years of banking experience, comes to Eclipse Bank by way of U.S. Bank (NYSE: USB), where he worked as a relationship manager for lower-middle markets for the bank with the largest market share in Cincinnati at 51%.
He also spent time with Wells Fargo. Dapper will be charged with constructing a team of commercial bankers while growing business loan and deposit portfolios to make way for the establishment of full-serve branch locations.
Fuller comes from U.S. Bank as well, working as senior SBA business development officer for the bank's Southwest Ohio region. Pyles said that Fuller, who has more than 20 years of banking experience, will be tasked with developing commercial and industrial business relationships as Eclipse looks to make SBA loans a new division.
Eclipse will begin its footprint in Cincinnati by establishing a loan production office with the hope of then converting that space into a full-service branch within six to 12 months of the office's opening.
In addition, Pyles also mentioned that Eclipse Bank will also be looking to enter the Knoxville market as well in Tennessee.
"We're constantly talking to people in Tennessee," Pyles said. " We've brought in several sales individuals in Tennessee. So that's a market that we're bullish on."
The bank's first branch in Tennessee, located in Johnson City, opened in September.
At the moment, though, there are no current projects in the works to build new branches in these new markets.
Eclipse Bank's new headquarters in Louisville
Construction is underway at what will be the third Eclipse location in the Louisville metro area at 13905 Promenade Green Way near Old Henry Road.
Recently, the steel frames were put up for the project, which is estimated to cost a little more than $5 million when all is said and done. It is estimated that the project will be completed in eight to nine months in the summer of 2023.
Located in what Pyles called a "hot corridor" featuring a Publix grocery store (under construction) and Thorntons LLC's headquarters, the three-story, 17,500-square-foot building will contain associates on the bank's retail, commercial, mortgage, private banking and operations divisions — as well as a majority of its corporate team members.
"We're out of space here, so with the new location, we have the opportunity to really build it for what we need," Pyles said from inside a conference room at the bank's current headquarters at 3827 Shelbyville Road in downtown St. Matthews. "And so it made a lot of sense at that point — to go ahead and make that the new headquarters."
John Hollenbach Jr. and Clayton Pitcock with Horizon Commercial Realty represented Eclipse on the purchase transaction on the land at a price of about $1.4 million for the new facility, according to a past LBF report. Hollenbach-Oakley will serve as project manager, with Donhoff Kargl Nall providing architectural services.
It also has a branch at 400 N. Hurstbourne Parkway.
As an honoree in LBF's Fast 50 program for the last two years, the bank nearly doubled its revenue from 2019 to 2021, going from $5.4 million to $10.7 million. In turn, Pyles said the bank also has scaled its hiring, by roughly doubling the amount of full-time employees. It currently has the 19th largest market share in Louisville with $212.6 million in deposits.
Pyles said that some of his corporate team would remain in the current 11,500-square-foot building in St. Matthews, which the bank opened in 2008.
In addition, Eclipse Bank was able to raise $15 million in capital through a private placement of common stock. Although investment banking firm Janney Montgomery Scott helped with the placement, the bank was able to raise close to two-thirds of the capital through family, friends and insiders, Pyle said.
The majority of that money will go to both helping its current markets and setting a pathway to additional expansion.