View all posts
2023 Fast 50: Eclipse Bank Inc.
09/06/2023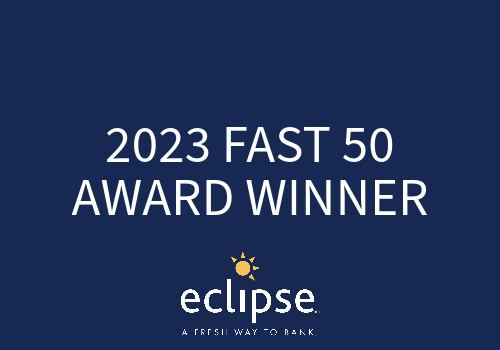 By Allison Stines – Data and projects editor, Louisville Business First
Sep 6, 2023
Updated Sep 6, 2023 2:04pm EDT
Louisville Business First's Fast 50 awards program celebrates the 50 fastest-growing private companies in Greater Louisville in terms of revenue.
This is the 24th year for the program celebrating the success of area businesses.
In our list of 50 companies this year, there is one company with over $1 billion in revenue for 2022 and 10 with over $100 million for 2022 revenue. The total combined revenue for our 50 companies this year is $10.6 billion!
Besides the total revenue, the revenue growth from 2020 to 2022 has been some of the highest I have seen working on this project over the years. The top five companies have growth over 1,000% and over half have growth of more than 100%.
There are 21 companies on this year's Fast 50 list that did not appear last year.
Our 50 companies represent all types of industries from financial services, construction, advertising, manufacturing and a lot more.
---
For our program, Fast 50 companies on our list must be independent, for-profit and privately held and have three full years of operating sales history. All nominees must agree to have annual revenue figures published in LBF.
These fast-growing companies are headquartered in Bullitt, Henry, Jefferson, Meade, Nelson, Oldham, Shelby, Spencer and Trimble counties in Kentucky and Clark, Floyd, Harrison and Washington counties in Southern Indiana.
We calculate the revenue information submitted by entrants, and the companies with the greatest percentage of revenue growth from 2020 to 2022 made the list. Only businesses with more than $5 million in revenue in 2022 are included.
Here are aggregate data gathered for the annual program:
We will celebrate all these companies and reveal where each of the 50 rank at our annual Fast 50 event Oct. 24 and in print and online Oct. 27. There will be more to come on the event at a later date.
Here are the Fast 50 companies for 2023 in alphabetical order.
3 Ten Enterprises LLC dba 310 Tempering
Air Equipment Co.
Alani Nutrition
American Roofing & Metal Co. Inc.
AML Construction
Arcadia Communities LLC
Avant-Garde
BrightSpring Health Services
Buffalo Construction Inc.
Calhoun Construction Services Inc.
The Charming Turtle
Congo Brands
Cornbread Hemp
Cornerstone Engineering Inc.
Craft Culture Concepts LLC
CureTech Innovative Therapies
Dan-O's Seasoning LLC
Dealer Trade Network
Denton Floyd Real Estate Group
eBlu
Eclipse Bank Inc.
Excel Services Inc.
Fives Intralogistics Corp.
Ingenium Talent
Ironwood Warranty Group
KCC Cos.
Lanning Chemical Co.
Malone Workforce Solutions
Meritrust Wealth Management
Mindel Scott
Miranda Construction
NIMBUS
One Source Logistics LLC
OnPoint Warranty Solutions LLC
Pluris
Presentation Solutions Inc.
Quadrant Metals LLC
RedTag
Security Pros LLC
SentryHealth
Slingshot
Stanley Schultze & Co. Inc
Stinger Equipment Inc.
Strategic Communications
Tag Your Swag
Total Services Inc.
Unbridled Chicken
V-Soft Consulting Group Inc.
Vimarc
Vitality Senior Services
We have several companies that did not make the Fast 50 above that we still want to recognize for their revenue growth over the past three years and will be alongside the Fast 50 content this year.
A shoutout to our presenting sponsors: Paducah Bank, Harding Shymanski & Co. PSC, LG&E and KU Energy, UofL College of Business, Commercial Kentucky and Dentons. Also, to the program and private reception sponsor Delta Dental of Kentucky.
Congratulations to the honorees in this years Fast 50!